Dr. Melina Jampolis Announces Partnership with blk. Water
Posted on June 15, 2021
Tagged: Press Release


Nationally Recognized TV Personality and Health and Fitness Author Joins Functional Beverage Company as Chief Medical and Nutrition Officer
LOS ANGELES, CA (June 15, 2021) – blk. International, maker of blk., the nation's leading premium functional water infused with fulvic minerals, is excited to announce a partnership with renowned health and fitness physician, author and television personality Dr. Melina Jampolis.
One of only several hundred practicing physician nutrition specialists in the United States, Dr. Melina is an internist and board certified physical nutrition specialist for disease prevention, weight loss, and treatment. A well-known author and TV personality, Dr. Melina has made multiple appearances on Live with Kelly and Ryan, as well as CNN, ABC, NBC, FOX News and other leading news and entertainment networks.
As the company's Chief Medical and Nutrition Officer, Dr. Melina represents blk. water as a scientific advisor, spokesperson, and nutrition expert to help educate consumers and accelerate the company's brand presence in the rapidly growing hydration and functional water category. Winsight Grocery Business cites that the functional water market is expected to grow at a compound annual growth rate of 7.4% to reach $18 billion by 2025.
"I am very excited to partner with blk. As a nutrition doctor, I profoundly care about people's health and wellbeing, especially with preventive care and health optimization, not just disease treatment," said Dr. Melina. "blk. provides a truly unique, all-natural and superior way to absorb and transport nutrients to every cell in your body with its premium source of fulvic acid. Nature got it right!" said Dr. Melina "The health benefits of blk. water are extensive, from its all-natural and incredibly well absorbed electrolytes, powerful cell-protecting antioxidants, and its ability to detoxify cells throughout the body. This product can without a doubt help support someone's health on many levels."
Full of Fulvic Benefits
Super hydrating blk. water is known for its beneficial patented fulvic trace mineral blend sourced from rich mineral deposits found deep within the earth. Once added to purified water, fulvic minerals turn the water black naturally (without use of any artificial dyes or colorings). The blk. formula delivers powerful electrolytes, trace minerals, and an alkaline pH water beverage without any carbs, calories, or sugar.
"It's not every day you get to work with a nationally recognized physician and nutrition expert who believes in the healing powers of our product," said Sara Bergstein, CEO of blk. water. "As you can imagine, with Dr. Melina's impressive background, she is very selective when it comes to supporting products and we're grateful for her partnership."
Get blk. (Visit www.getblk.com)
blk. water is already available at thousands of stores across the country including Amazon, Whole Foods and Erewhon as well as at www.shop.getblk.com. 
About Dr. Melina Jampolis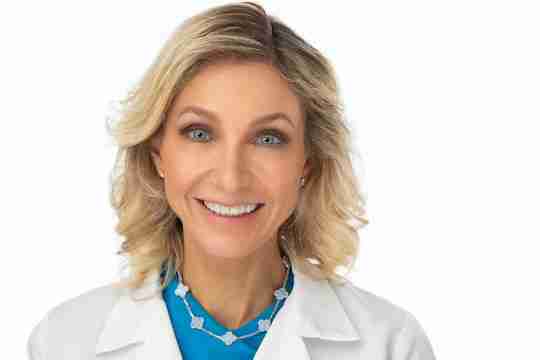 A graduate of Tufts School of Medicine, Dr. Melina completed her residency in Internal Medicine at Santa Clara Valley Medical Center, a Stanford University teaching hospital. For the past 13 years, she has served as the diet and fitness expert for CNNhealth.com. She is the past president of the National Board of Physician Nutrition Specialists and continues to serve on their board of directors. In June 2021, she joined the Forbes Health Advisory Board. She maintains a private, nutrition practice in Los Angeles. She has authored five books, The No-Time-to-Lose-Diet, The Calendar Diet, The Doctor on Demand Diet, Spice Up, Slim Down, and her most recent book, Spice Up, Live Long, of which $1 from every book sold goes to No Kid Hungry, an organization leading the fight against childhood hunger in the United States. . Dr. Melina is frequently interviewed by national publications on nutrition and weight loss-related topics and has appeared on numerous national TV programs, including Live with Kelly and Ryan, The Doctors, The Dr. Oz Show, CNN, Fox Business, and more. For more information visit, DrMelina.com.

About blk.
blk. is an ALL NATURAL functional beverage, which only uses high quality natural ingredients and helps support a healthy lifestyle. blk. is infused with fulvic trace minerals – a super nutrient and one of the most powerful polyphenols known.
Fulvic has been used for thousands of years as a foundational ingredient in Ayurvedic medicine. This has prompted hundreds of accredited scientific and medical organizations to make the fulvic molecule the subject of rigorous independent studies. These studies have reported broad beneficial results relating to improved health and disease prevention – including supporting gut health, brain health, healthy immune function, detoxification and reducing inflammation.
blk. water is black in color due to nutrient-rich minerals, which are naturally dark. Made with all-natural plant-based ingredients, blk. has zero carbs, zero sugar and zero calories. blk. is gluten-free, kosher, and vegan, making it the perfect go-to wellness beverage that tastes refreshing and clean. blk. water helps replenish your body for optimal health! For more information visit, getblk.com.

Contact. For wholesale inquiries, please contact sales@getblk.com
blk. Water Media Relations: Jen Svejda - jen@getblk.com
Steven Hoffman, Compass Natural, 303.807.1042, steve@compassnatural.com